English info
ORDER BIRNABAG FROM OUTSIDE OF NORWAY
To order a Birnabag from outside of Norway, please send us a mail to birnadal@birnadal.no with your name and address. We will provide you with information regarding total costs, delivery included.
WITHIN EUROPE
Total cost per unit is 240 €, and includes free shipping within Europe. In addition, import duty & taxes might apply, depending on destination country.
OUTSIDE EUROPE
If the shipping adresse is outside Europe, send us a mail and we will contact you to ensure that you approve the total costs, delivery included, before the Birnabag is shipped. In addition, import duty & taxes might apply, depending on destination country.
BIRNABAG BY BIRNADAL
Birnabag is the protective bag for any child carrier. It is a multifunctional protective bag for children 0-6 years as it also may be used for baby carriers, bike trailers, in prams, pulks, boats and tents. It is windproof, water-repellent and insulated. Birnabag fits all child carriers and baby carriers.
The unique Birnabag is a quality product with a functional design that makes it fit any child carrier and it `grows` with your child.. It has flexible and elegant adjustments, practical details and it weights only 1100 grams.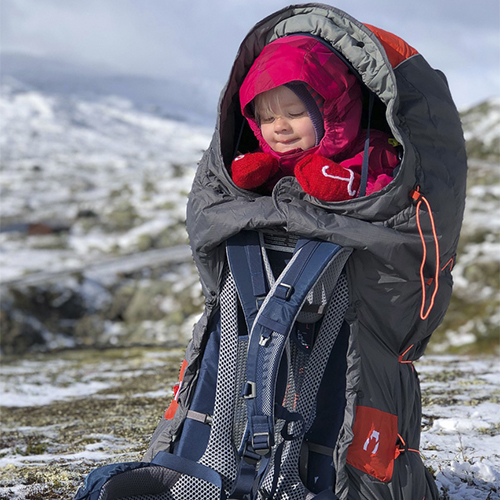 SAFETY CARING COMFORT
A Birnabag, as an accessory to the child carrier, contributes to greater safety for your child.
The Birnabag protects your child from wind and weather. It will help you to keep your child safe even if the weather conditions change to the worse.
The Birnabag helps you to keep your child pleasantly warm and dry, also while feeding outdoors.
A Birnabag makes the use of a child carrier easier and more comfortable with lesser need of extra clothing.
The Birnabag extends the use of child-carriers, gives fewer limitations due to weather conditions and provides you with the freedom to be outdoors with your child for a longer period of time.
The inventor created the Birnabag because she needed to protect her son from wind and weather. She was born and raised in Bindal in Norway. Long ago, in Old Norse, Bindal was named "Birnadal", which translates as "the valley of female bears". The inventors love and pride for this forest, fjord and mountain area resulted in the name of the patented bag, Birnabag By Birnadal.
THE OSCAR OF THE OUTDOOR INDUSTRY